COVID-19 Business Impacts
Updates From Power/mation and Our Suppliers
Power/mation is closely monitoring the impact of Coronavirus COVID-19 on our partnering suppliers. Click below to see what suppliers are potentially impacted by Coronavirus. We will be updating this list as more information becomes available. Read further for a message from our Executive Vice President of Sales Bob Ricci to learn what we are doing to maintain safety for our employees and business relationships with our customers. Future updates can be found here and will be communicated on all Power/mation channels.
Click the images below to stay up to date with Power/mation's official statements regarding Coronavirus COVID-19 and the steps we're taking to ensure employee safety and service to our customers.
First Priority - Employee Safety
Power/mation has made adjustments to our work sites to ensure employee safety while still providing service to our customers.
Power/mation is an Essential Business
Power/mation has been deemed to be an essential and life-sustaining business due to the resources we provide to critical manufacturing industries.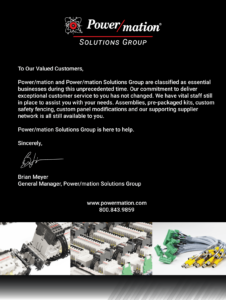 Here to Help
Power/mation Solutions Group falls under Power/mation's essential business classification and remains open to serve our customers.