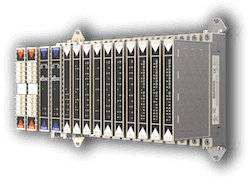 Description: Bedrock is the world's most powerful, scalable, secure, and rugged industrial control system. In this session we will do an introduction to our hardware which includes basic features, configuration of both discrete and analog I/O, high speed counter functionality, and more.
This webinar series, based on Bedrock's certification training material, provides a good introduction to the many features and benefits of our award winning Open Secure Automation (OSA) platform. The live interactive five-part series will cover the following topics:
1) Intro to the Bedrock Integrated Development Environment (IDE) – May 28
2) Intro to the Bedrock Hardware – June 2
3) Fieldbus Devices and Data Types – June 4
4) Intro to Languages (Part 1) – June 9
5) Intro to Languages (Part 2) – June 11
All sessions will be recorded and shared with registrants.
A mystery prize worth $150 will be awarded at the end of the series to the participant who attends all sessions and is the most engaged. We hope you will join us!