Application Overview
The vital passageways around your facility to keep product moving. Power/mation supplies sensors, drives, cabling and pneumatic valves and cylinders for a complete system architecture. With Power/mation's IIoT solutions, you can visualize your data and monitor your Overall Equipment Effectiveness (OEE). See your data and make empowered decisions.
Commonly utilizes variable frequency drives (VFDs) for a continuous motion control solution
Multiple components accross Power/mation product lines required
Field I/O solutions available for a modular application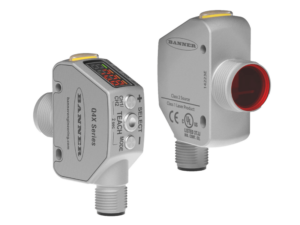 Banner Engineering Q4X Sensor
The ideal sensor in a washdown application for its solid stainless steel consruction, IP69K rating, and exceptional multi-material detection capabilities.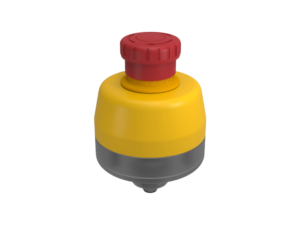 Banner Engineering SSA E-Stop
Bring your line to a safe stop. This button is rated to IP65 and features multi-color LED indicators.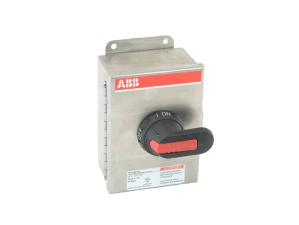 ABB Stainless Steel Disconnect
The stainless steel enclosed disconnect switch range from ABB features 16 up to 100 Amperes and UL/NEMA 4/4X versions.
ABB ACS380 Machinery Drive
0.25 to 22 kW, 200 to 480 V
Unified height and depth of the IP20 product family simplifies wiring in cabinet installations
Preconfigured drive variants for connecting the drive quickly
Adaptive programming for fine tuning the application functionality
Integrated safety with safe torque off (STO) as standard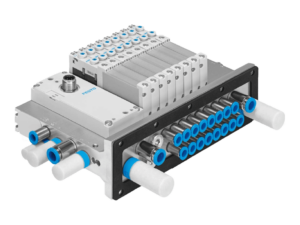 Festo VTUG Valve Manifold
The Festo VTUG allows for Nema 4X-rated bulkheads to be integrated into your stainless steel washdown control panels. Power/mation Solutions Group will modify your panels to maximize the VTUG's performance in your application.
Festo Air Cylinders
The Festo CRDSNU, DGRF, and CRHD are all ideal cylinders to complement your conveyor when linear movement is needed for indexing product.
Lenze Smart Motor
Freely adjustable speed reduces the number of different drives
Integrated soft start function
Less wiring thanks to electronic contactor and motor protection function
Outstanding energy efficiency
Can be operated by an NFC-capable smartphone and Lenze app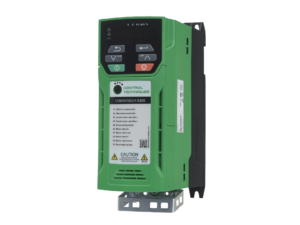 Control Techniques C200 and C300 AC Drive
Plug-in options for advanced control
Dual Safe Torque Off (STO)
 Equipped with the latest energy saving features
Up to 180% overload for high torque applications
On board PLC
Straightforward installation and commissioning
Easy motor pairing and performance control
Robust and reliable design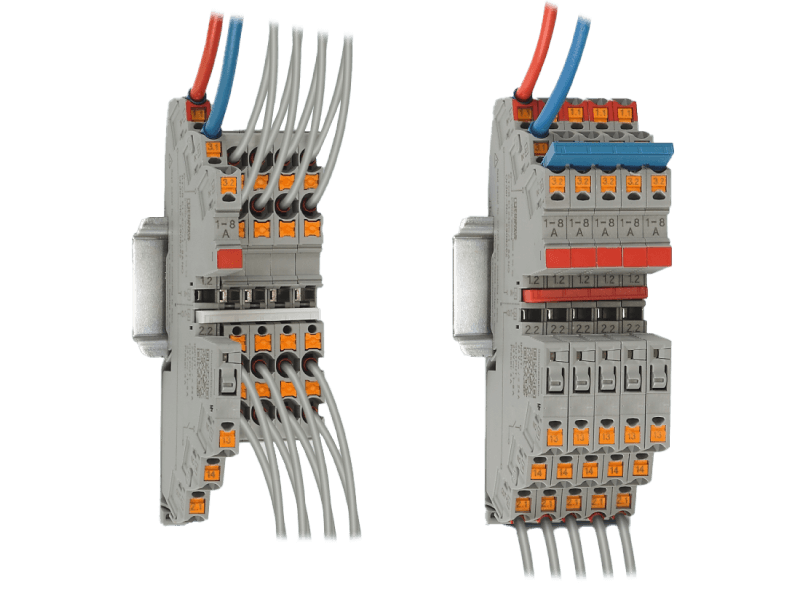 Phoenix Contact PTCB Series Circuit Breakers
UL Listed as NEC Class 2 device
For 24VDC loads
No glass fuse to replace
Integrated local and remote status indication
Individually programmable options from 1 through 8 A
Or fixed nominal current options 1 through 8A
Bridgeable with terminal block for easy power distribution
Learn more from Phoenix Contact.
Banner Engineering TTR Roller Conveyor Sensor
Banner's Through-the-Roller sensor bar provides reliable detection with reduced installation time and cost. It reliably detects very thin or irregular objects from between the conveyor rollers. The TTR features quick installation of up to seven diffuse sensors spaced across the conveyor width.
Lenze i550 Protec Frequency Inverter
The protection level of IP66 (NEMA 4X) with indoor and outdoor approval, this means hoseproof and dust-tight, also allows the use in rough environments
First decentral drive in the market with IO-Link Device Interface
Sensorless vector control for synchronous motors
EPM module for simple series commissioning and device replacement
USB Micro diagnostic interface on board
Optionally available with keypad or WLAN module
Equipment Health Monitoring
Power/mation creates custom remote connectivity solutions for you with products from Phoenix Contact, Banner Engineering, Secomea, RRAMAC, Red Lion, Verizon and more. Learn more at our
Industrial Internet Solutions
page.
Let's Get Started
Now is the time to start a conversation with our experts. Reach out with the contact form below.