This was the industry standard for automating facilities in the 20th century, but innovation continues with Power/mation's leading pneumatic technology partner: Festo. See the difference for yourself with their revolutionary air preparation units, valves, CPX controller and cylinder technologies.
Compressed Air Preparation








Servo-Pneumatic Control Components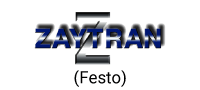 Interested in a pneumatic solution or components?
Submit a contact form and we will have a Power/mation pneumatics expert speak with you.