Application Overview
We guide you to implement automated controls for recipe management and validation data collection to achieve consistent results throughout the mixing operation. Power/mation mixing solutions are non-invasive, scalable, user-friendly, and can provide variable speed and torque control to suit your product.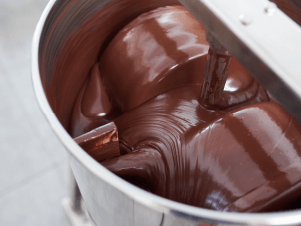 Maintain uptime with monitoring sensors that can judge heat, pressure, flow, and vibration. Monitor this data with a Power/mation IIoT solution.
Add stainless steel motors from ABB and stainless panels from Rittal for a complete washdown solution.
Tough-coated gearboxes and motors ensure that power transmission is able to properly withstand washdown cycles.
ABB IEC Food Safe Stainless Steel Motor
IP69 for water protection rating ensures suitability for clean in place washdown procedures
Laser engraved rating plates eliminates contamination trapped beneath traditional rating plates
Encapsulated windings prevent any water and moisture from reaching the windings
Low surface temperature with less operation costs due to high efficiency
H1 food grade synthetic grease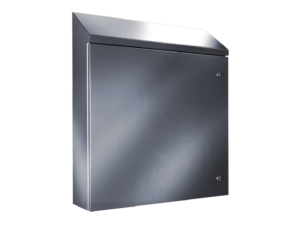 Rittal Wall Mounted Slope Top Enclosure
The WMS slope top wallmount enclosure is designed for any environment that requires frequent washdowns. The 20 degree overhanging sloped roof prevents water from accumulating on top of the enclosure and door opening.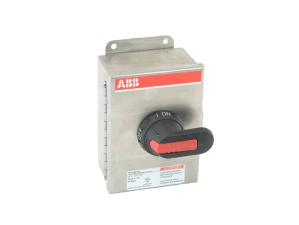 ABB Stainless Steel Disconnect
The stainless steel enclosed disconnect switch range from ABB features 16 up to 100 Amperes and UL/NEMA 4/4X versions.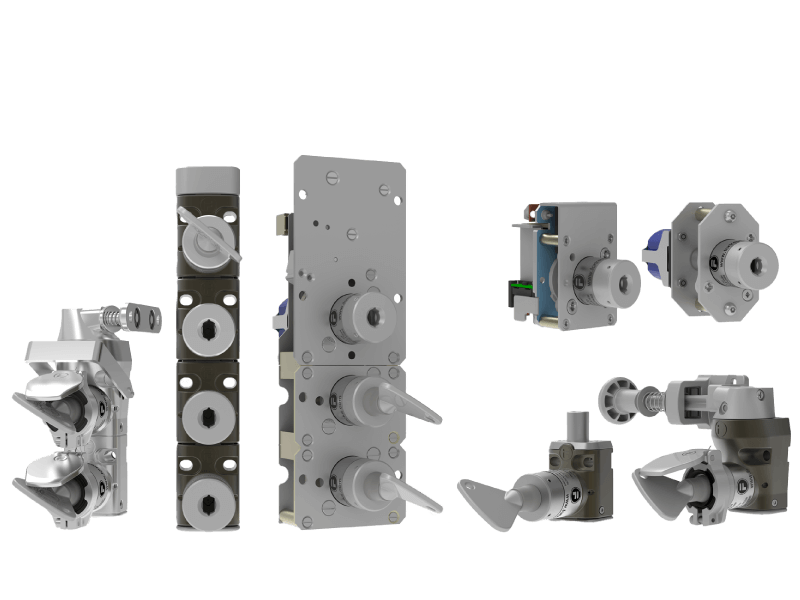 Fortress Interlocks mGard
mGard is the premier range of trapped key interlocks for industrial safety applications, from Fortress Interlocks. Trapped key interlocking (often referred to as Castell locking) is a method of controlling two or more independent operations which must take place in a predetermined sequence.
ABB Smart Sensor
ABB Ability Smart Sensor is a remote condition monitoring solution that enables users to check the status of their LV motors from a smartphone or dedicated web portal. The compact sensor of the size of a smartphone can be attached to motors of many manufacturers to pick up operating and performance data. The data are transmitted to the cloud and processed to produce useful information on motor health and performance. This information is supplied to the user in an easy-to-understand format. The solution enables predictive analytics that can boost uptime while reducing energy consumption.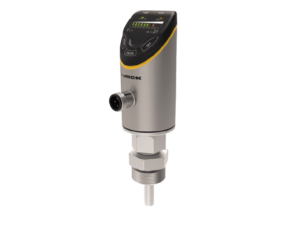 Turck Flow Sensors
Flow sensors from Turck are a versatile family of products with the ability to use either insertion or in-line designs to measure flow. These sensors are available as a calometric design that is best suited for monitoring flow, or as a magnetic inductive which functions as a flow meter.
Turck Temperature Sensors
Temperature sensors from Turck offer tailor-made solutions via displays, simple programming, and flexible process connections. These sensors are available as 100 ohm platinum RTD, RTD transmitters with and without IO-Link, and temperature transmitters with display.
Turck Pressure Sensors
Pressure sensors from Turck capture relative or absolute pressures in liquids and gases. The all-new PS+ is used to measure pneumatic or hydraulic pressure.  The sensor shows the measured pressure on an integrated multi-color display while the outputs communicate critical process information to a control system. The PS+ pressure sensors offer IO-Link capability for added functionality, auto-detect outputs, and a 340-degree rotatable sensor head to ensure simplified installation and commissioning. It also offers a stainless steel housing and measuring cell for maximum ruggedness. A large selection of process connections are available.
Nord Drivesystems NSD TupH Products
You can now get Nord motor components with a m

olecular conversion of the aluminum alloy to provide drive equipment with all the protection your application demands. 

This layer is up to 7 times harder than the basic aluminum material and up to 1000 times harder than paints and lacquers. It provides unique protection against corrosion and will not flake off.
ABB SM500F Paperless Recorder
Fully compliant with the FDA's (Food and Drug Administration) 21 CFR Part 11 regulations concerning electronic process data collection, the SM500F is ideal for any installation where local indication and recording of process conditions is required.
ABB CMF310 Process Controller
The CMF310 is the latest addition to ABB's family of universal process controllers. It is a unique field-mountable controller that enables wall-, or pipe-mounting without the need for an additional enclosure. IP66, NEMA 4X and UL Class 1, Div 2 approvals make the CMF310 suitable for almost all environments. The powerful operator display features a full-color 9 cm (3.5 in.) text display that is simple to navigate and easy to use.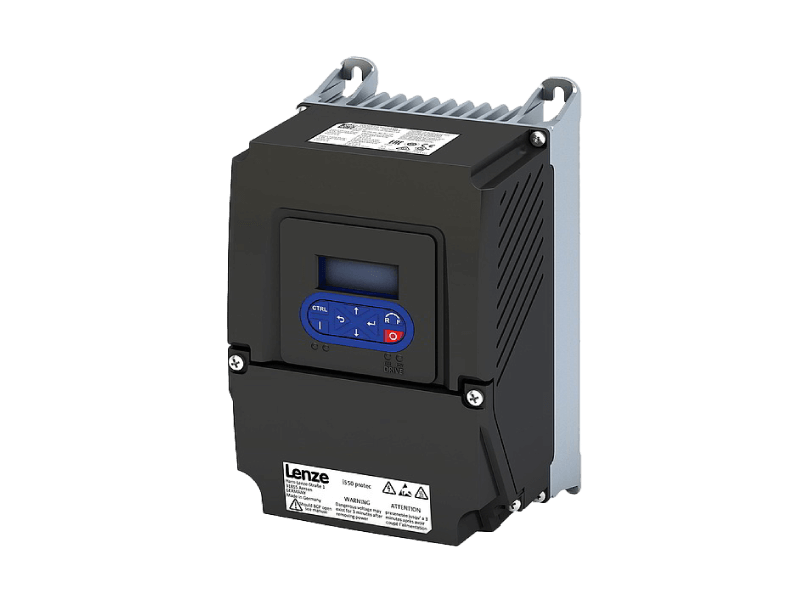 Lenze i550 Protec Frequency Inverter
The protection level of IP66 (NEMA 4X) with indoor and outdoor approval, this means hoseproof and dust-tight, also allows the use in rough environments
First decentral drive in the market with IO-Link Device Interface
Sensorless vector control for synchronous motors
EPM module for simple series commissioning and device replacement
USB Micro diagnostic interface on board
Optionally available with keypad or WLAN module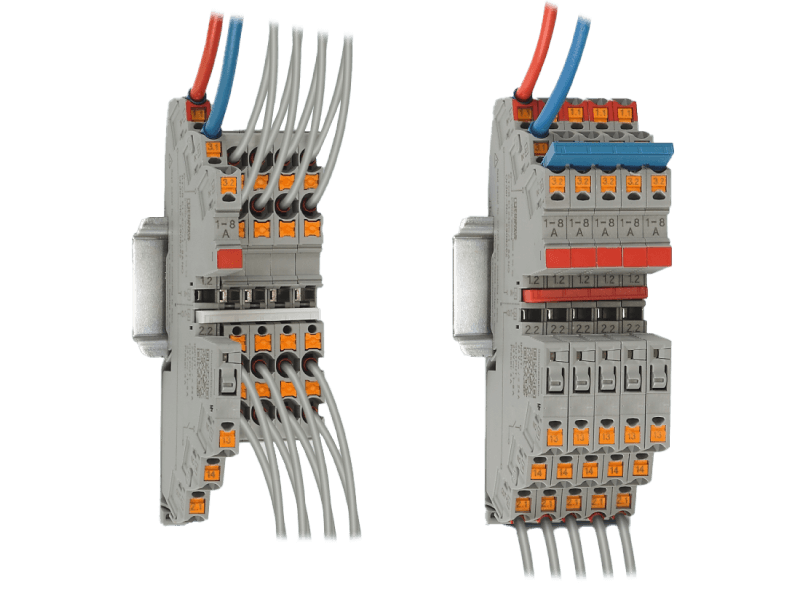 Phoenix Contact PTCB Series Circuit Breakers
UL Listed as NEC Class 2 device
For 24VDC loads
No glass fuse to replace
Integrated local and remote status indication
Individually programmable options from 1 through 8 A
Or fixed nominal current options 1 through 8A
Bridgeable with terminal block for easy power distribution
Learn more from Phoenix Contact.
Noshok 30 Series Pressure and Level Transmitter
Adjustable ranges from 16 inH2O to 1,450 psig
All Stainless Steel housing
Active temperature compensation
Accuracy 0.1% of adjusted span
10:1 Turn down
Easy programming and range adjustment without test pressure via on-board display
Hart protocol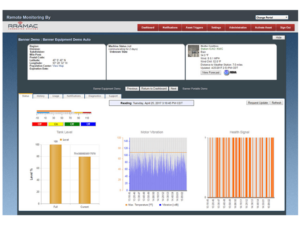 Equipment Health Monitoring
Power/mation creates custom remote connectivity solutions for you with products from Phoenix Contact, Secomea, RRAMAC, Red Lion, Verizon and more. Learn more at our Industrial Internet Solutions page.
Let's Get Started
Now is the time to start a conversation with our experts. Reach out with the contact form below.