Overview
Using robotics and vision-based guidance, components such as lids and packages can be picked quickly and precisely for placement.  Introducing automation into your application improves accuracy, consistency, and throughput.
Robotic end of arm tooling, like those from Schmalz, lifts products and places into cartons to move on to the next stage of packaging
High speed packaging robots, such as the Flexpicker from ABB are proven components in food and beverage
Pickmaster software from ABB with high-speed conveyor tracking and vision keep your application moving quickly
Pick-it 3D Vision Cameras
The Pick-it M suitable for medium sized picking applications
Pick-it's 3D camera and software finds object in bins, pallets, tables, and boxes and tells your robot where and how to pick them
ABB IRB 360 FlexPicker
A stainless option for food handling applications is IP69K validated so that it can be washed down with industrial detergents and high pressure hot water. This variant is also designed with smooth and easy to rinse-off surfaces and lubricant free joints that are resistant to most corrosives.
High speed flexibility
High capacity – up to 8 kg payload
Hygienic design for washdown applications
Superior tracking performance
Integrated vision software
Integrated control of indexing belts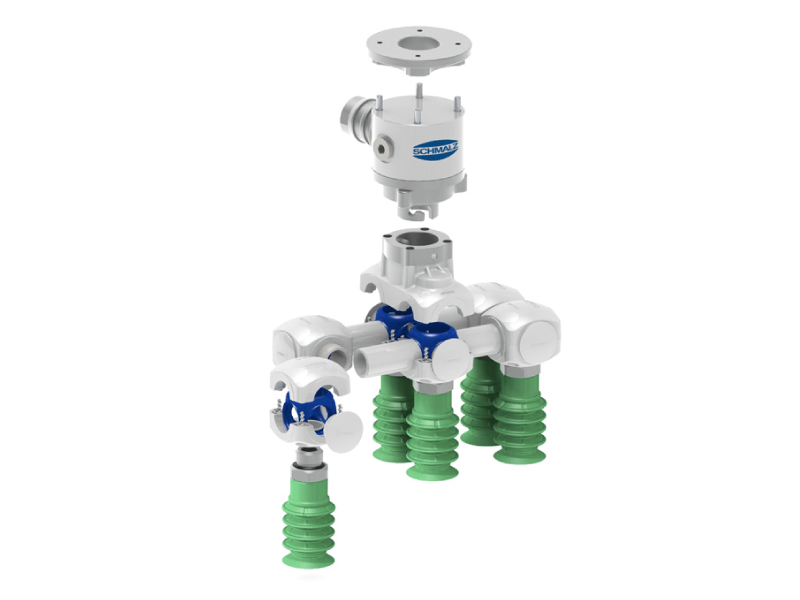 Schmalz Vacuum End Effector (VEE)
Custom configurator available online
Fast and cost-effective design of vacuum end effectors for highspeed packaging processes
Pick-and-place applications with Delta, SCARA and articulated robots
Fully automated filling of cardboard boxes in case packers
Use in primary and secondary packaging processes
Transporting products into top-loading machines as well as in cardboard box and tray aligners
Use in flexible packaging machines with frequent format changes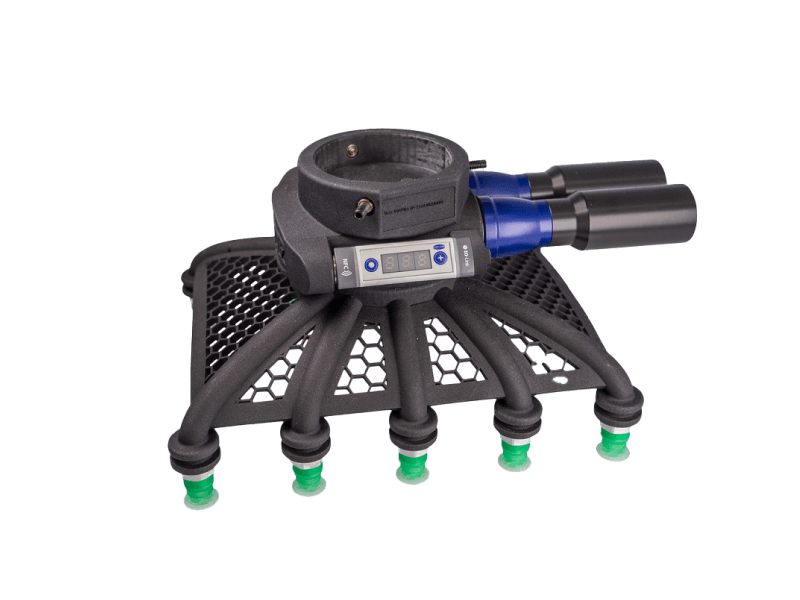 Schmalz SLG Lightweight Gripping System
The lightweight gripping system SLG is ideal for use on lightweight robots and cobots for automatically handling different workpieces. The additive manufacturing process used to produce the SLG gives the system a high degree of flexibility, allowing it to be adapted to and used on a multitude of custom applications.

Automated design configurator
Additively manufactured gripper
Integrated air supply
Pre-configured flange plates for common robot types
Macron Dynamics T–Bot
Fast and versatile belt-driven 2 axis pick and place system
One single belt drives both axes
Two fixed motor mounting locations
Fixed motors reduce load, cable management and inertia requirements
Positional repeatability +/- .05 mm
Speeds up to 2000 mm/sec.
Sealed linear profile rail and bearing guidance
Mounting flexibility for a variety of end effectors
Nexen RPS
The Nexen Roller Pinion System (RPS) revolutionizes linear and rotary motion control possibilities. Giving a fresh face to traditional rack and pinion systems, the RPS overcomes the troublesome limitations of conventional drive systems and offers unmatched performance. Across industries as varied as laser cutting and mining, users will benefit from the accuracy and 99% efficiency of this new technology.
The incredible performance of the RPS starts with a pinion Opposition consisting of bearing-supported rollers that engage a unique tooth profile. Two or more rollers engage the teeth in opposition at all times to eliminate backlash. The pinion rollers glide easily along a tangent path and roll smoothly down the tooth face for quiet, low-friction operation.
Nexen Servo Motor Brake
Nexen has an Eclipse brake for every servo motor. Flanges range in size from 57 mm [2.25 in] up to 265 mm [10.43 in] square with shaft diameters from 6,35 mm [0.25 in] up to 48 mm [1.89 in]. Brake torque is four times that of servo motor internal brakes and ranges from 2,25 Nm [20 in-lb] to 125 Nm [1100 in-lb].These low inertia brakes provide the holding power needed for every application.
Apex Dynamics AE Series Gearbox
The Apex AE series is unique to the market. Apex is the only manufacturer that produces a cylindrical helical stainless steel gearbox world wide. High precision, high torque and quiet operation are provided by 100% optimized helical gearing. Straddle mounted high precision bearings allow for high radial and axial loads.
Fortress Interlocks tGard
tGard is the new innovative approach to controlling access to hazardous machinery and equipment. It is a compact metal bodied system that enables the configuration of various safety products including electrical safety gate switches (with or without guard locking), mechanical trapped key interlocks, and electrical operator controls, either as separate devices or integrated into one device.
Metal body construction at competitors plastic price point
Customizable as standard – select your elements to create your tailored interlock
Stylish design enhances the workplace aesthetics
Unrivalled choice of control options
Very easy to install
Rollon Seventh Axis
Shuttle system for moving robots and heavy loads for long distances with high dynamics.
The motion system is available with recirculating ball guides or rollers while the driving system has been designed with rack and pinion. The shuttle is equipped with adjustable ties to achieve alignment even on irregular surfaces. Cable carrier and dampers at the stroke end are included.
Macron Dynamics Tri-Bot
In many industries, the fast-paced production of high-volume products requires an equally rapid transfer mechanism. With the ability to complete up to 125 picks per minute, Macron Dynamics offers a fast, scalable solution with our Tri-Bot Linear Robot. Offered as a kit using belt driven actuators and a connector kit, the Tri-Bot can be configured to provide a wide range of work envelopes.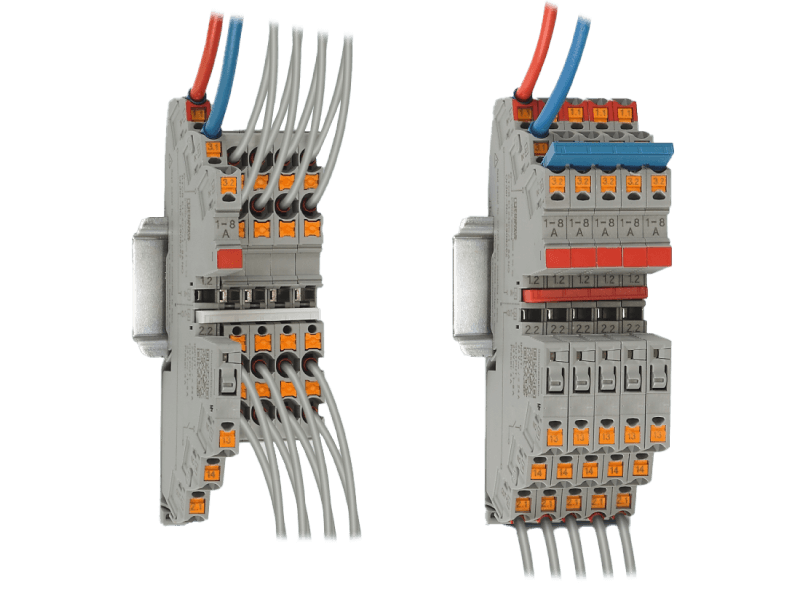 Phoenix Contact PTCB Series Circuit Breakers
UL Listed as NEC Class 2 device
For 24VDC loads
No glass fuse to replace
Integrated local and remote status indication
Individually programmable options from 1 through 8 A
Or fixed nominal current options 1 through 8A
Bridgeable with terminal block for easy power distribution
Learn more from Phoenix Contact.
Let's Get Started
Now is the time to start a conversation with our experts. Reach out with the contact form below.