Key Applications
Power/mation provides support for your medical device and pharmaceutical operations.
Packaging
Power/mation supplies you with the components you require for sensitive product applications requiring aseptic packaging. Light-duty robotics can work alongside humans to package delicate or small parts. Thorough air preparation in your pneumatics process can help keep your packaged goods sterile during the whole procedure.
Specialize in secondary packaging after raw materials are processed into product
Precisely process finished goods for multi-step packaging
Sensors to accurately place product and verify presence
Advanced algorithms to increase productivity
Tracking, Traceability, & Serialization
Quickly identify and address issues in your supply chain or product quality to minimize the impact to your process. Trace a product in real time as it moves through your plant. Power/mation supplies RFID tracking, bar code scanners, and product marking equipment to aid you in managing your production or prototyping.
Log production data and analyze to continuously improve quality
Collect batch data for traceability
Laser marking devices to identify products using sensors to verify a quality mark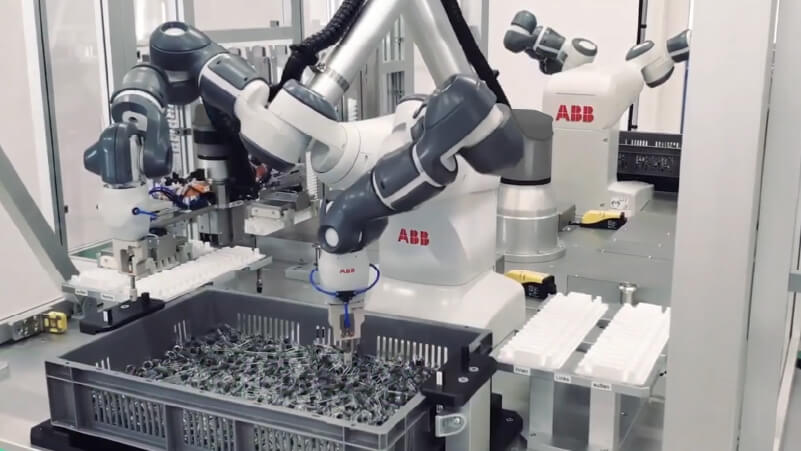 Device Assembly
Medical device assembly places high demands on precision, accuracy, and small size. Power/mation has experience collaborating with device manufacturers that face these challenges. Power/mation supplies micro grippers, small precision focused actuators, micro valves, sensors, and many automation solutions to meet these unique demands.
Precision robotics and tooling for your light-duty assembly operations
Vision inspection
Collaborative robots to work alongside humans
Servo press solutions for highly repeatable press forces in precision assembly
Certified Safety Machine Expert (CSME) on staff to consult on safety components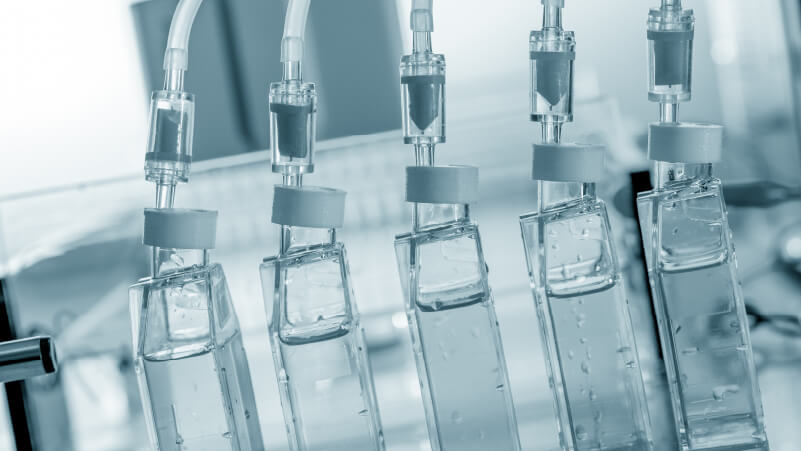 Filling & Dispensing
Power/mation can assist in all aspects for general automation needs for filling and dispensing applications.  This includes presence sensing, positioning, counting, and speed control with electrical components. Mechanical components can provide motion, robotics, power transmission, and actuation needs.
Ultrasonic sensors for level detection
Precise volumetric filling with electric actuators
Prototyping
Power/mation has sales engineers to help select the appropriate technology and products that encompass all aspects of machine automation. As you develop your medical device concepts, Power/mation assists you as you begin to prototype your assembly process. From pneumatics, robotics, sensing, controls, data collection, and motion, we have over 100 vendors covering thousands of products that will meet your needs. Power/mation Solutions Group offers advanced assembly assistance for those in need of scaling your manufacturing. Read more about Power/mation Solutions Group.
Controls design for small scale PLC controlled assembly
Heating control and heating elements
Motion for picking and placing of objects big and small
A variety of sensor products ranging from fiber optic and laser for all your sensing needs
Cabling systems designed to meet your unique challenges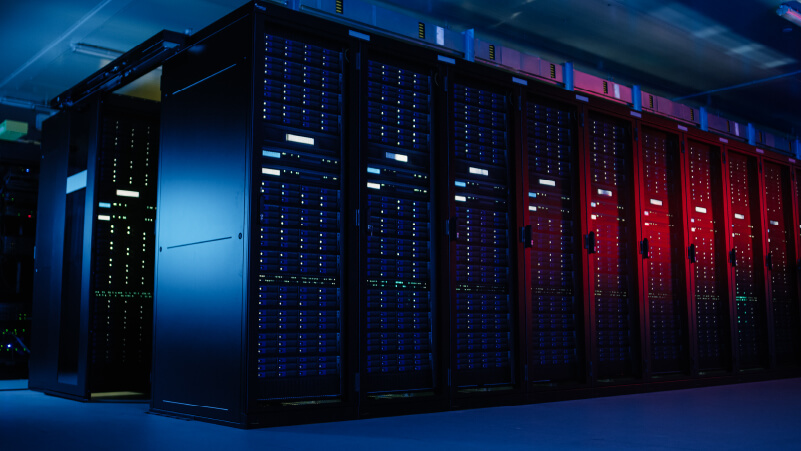 Security & Networking
Power/mation recommends security to be your priority when implementing remote connectivity. Information Technology (IT) attacks can lead to the loss of data and intellectual property being compromised. Operational Technology (OT) attacks can do harm to assets in the physical world. Power/mation offers strategies to defend against both attacks. Read more on defense and preparedness strategies in our Cybersecurity & Network Segmentation Guide.
Other benefits of working with Power/mation for secure networking:
Replicate cloned machines without requiring revalidation of your ethernet infrastructure.
Protect your data while allowing access for changes by approved users.
Secure remote access that allows for batch upgrades across enterprise systems (Secomea products).
Implementation of application whitelisting (Phoenix Contact MGuard with fire walls).
Person to machine access.
Additional reading to explore topics concerning Power/mation security and networking solutions:
Cybersecurity & Infrastructure Security Agency
National Institute of Standards and Technology
Custom Services
Power/mation Solutions Group has all your needs for custom prototyping automation. From small scale custom control systems, data logging, and cabling systems to turnkey controls automation and motion, Powermation Solutions group is here to help. We work hand in hand with engineers and integrator partners to help develop and design automation systems that are scalable from prototype to full production.
Custom Control Systems
Enclosure Modification
Cable Assembly
CE Certification
Programming and UL Panel Build within our Partner Network
Custom Robotics & Safety Guarding
Custom CAD and Solid Modeling
Learn more about Power/mation Solutions Group.
Let's Get Started
Now is the time to start a conversation with our experts. Reach out with the contact form below.