Application Overview
Transporting the material web through your process with minimal damage for maximum throughput is the primary concern for a paper application. Power/mation can implement systems to sense registration marks, web breaks, product thickness, edge detection, and other process feedback.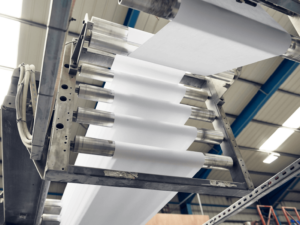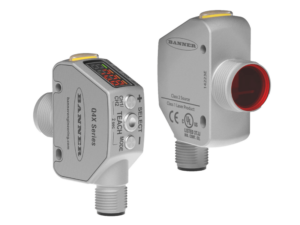 Banner Engineering Q4X Sensor
Used to measure web thickness and edge detection
The ideal sensor in a washdown application for its solid stainless steel consruction, IP69K rating, and exceptional multi-material detection capabilities.
Roll-2-Roll Technologies Web Sensors
Roll-2-Roll Sensors can measure edge position, contrast position, position of a line on the web, web width, count and monitor threads of any material without the need for any setup or calibration. The sensing principle relies on light scattering and spatial filtering properties of fiber optics to accurately determine the web position. The web position sensor is essentially an affordable vision based sensing system different web sensing applications.
An external actuator can also be used in tandem with the sensor to retrofit older systems.
Learn more from Roll-2-Roll Technologies.
Roll-2-Roll Technologies Compact Web Guiding Systems
The Roll-2-Roll Web Guide is the simplest web guide available in the market. The fully integrated solution includes a web guide mechanism mounted on an enclosure housing the actuator, controller and operator interface. The plug-and-play web guiding system can be installed out-of-the box within 10 minutes. The web guide requires no subsequent setup or calibration once installed, even if the materials and processes change. Read more about compact web guiding units at Roll-2-Roll Technologies.
Banner Engineering DF-G Series Fiber Optic Amplifier
A key product for splice detection and web break applications, the DF-G2 fiber optic amplifier can achieve 10 microsecond response time with 5 microsecond repeatability.
Models with IO-Link enable a point-to-point communication link between a master device and a sensor, facilitating remote monitoring, teaching, and configuration
Best in class response speeds of 10 μs, 15 μs, 50 μs, 250 μs, 500 μs, and 1000 μs
Easy-to-read dual digital displays show signal level and threshold values
Simple user interface ensures easy sensor set-up and programming via displays and switches/buttons or remote input teach wire
Banner Engineering LTF12 Series Sensor
High-performance LTF Series Sensors detect targets regardless of color, material or sheen from up to 24 meters away, straight-on or at an angle. This unit is used primarily for measuring roll diameter.
Analog and discrete or dual discrete outputs for measuring and detection applications
Best in class combination of range, repeatability and accuracy enable highly reliable target detection and precise distance measurement
Two-line, eight-character display and pushbutton programming for easy setup, troubleshooting and real-time distance measuring
Durable IP67 housing, high ambient light immunity and stable performance across temperatures provide reliable performance in challenging environments
Banner Engineering QS18 Series Sensor
Used for detecting web break
Features a universal housing with an 18 mm threaded lens or side mounts
Replaces hundreds of other sensors
Meets IP67 and NEMA 6 standards for harsh environments
Available in opposed, polarized and non-polarized retroreflective, convergent, regular and wide-angle diffuse, small spot diffuse, laser, ultrasonic, plastic or glass fiber optic, fixed-field and adjustable-field sensing modes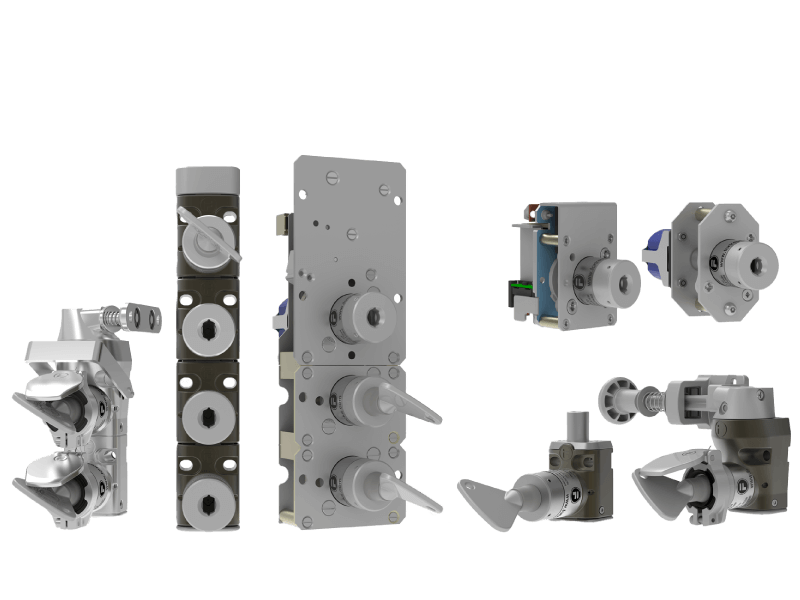 Fortress Interlocks mGard
mGard is the premier range of trapped key interlocks for industrial safety applications, from Fortress Interlocks. Trapped key interlocking (often referred to as Castell locking) is a method of controlling two or more independent operations which must take place in a predetermined sequence.
Key feature: mGard utilizes trap key locks for hazardous locations.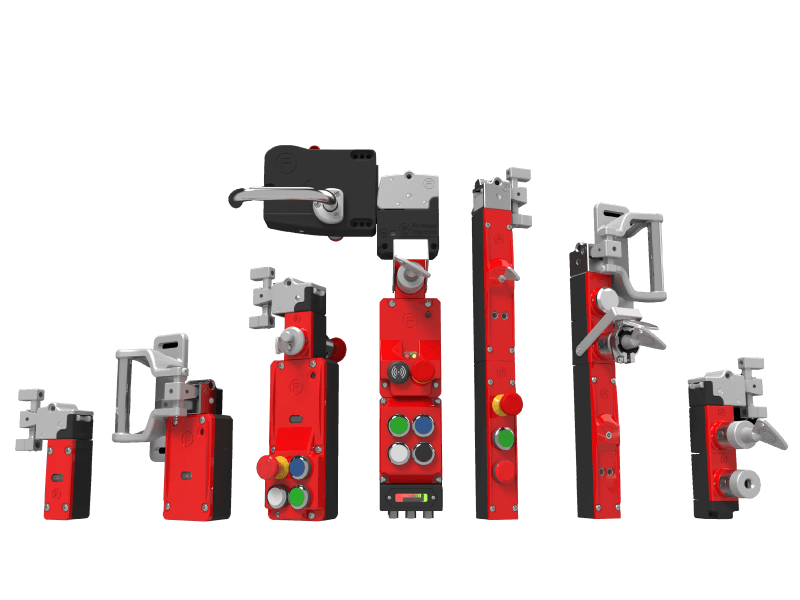 Fortress Interlocks amGard Pro
Offers safety switches with Cip Safety compatibility

amGardpro is the ultimate range of modular safety gate interlocks for heavy duty applications with a retention force of 10,000N.

Its unique modular construction allows easy configuration; providing electro-mechanical solutions for practically any safeguardingapplication up to SIL3 (EN/IEC 62061), Category 4 and PLe (EN/ISO 13849-1).

proNet is an addition to the amGardpro range that adds an Ethernet based networking capability to the product range.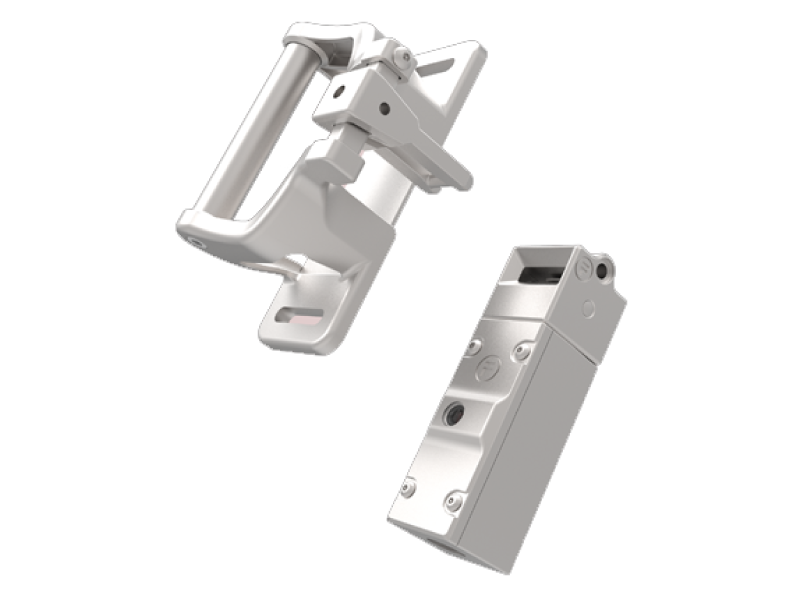 Fortress Interlocks amGardS40 – Stainless Steel
The stainless steel safety option for the wet end of your paper process. The amGardS40 is the latest range of safety interlock switches from Fortress Interlocks. Manufactured in 316 stainless steel, the range is modular in design, allowing a wide range of safety interlock switches to be configured to suit many industrial applications. The choice of configurations include:
Solenoid Locking Safety Switches
Solenoid Locking Safety Switches with internal release
Solenoid Locking Safety Switches with "safety keys" (for personnel protection)
Solenoid Locking Safety Switches with machine control
Non-Solenoid Tongue Switches
Non-Solenoid Tongue Switches with machine control
Mechanical Trapped Key Interlocks
Machine Control Station
Roll-2-Roll® Controller and Tolomatic Actuators
The Roll-2-Roll Controller is the brain of the Roll-2-Roll® Sensors and the Roll-2-Roll® Web Guide. The controller can be used for standalone sensing/measurement applications as well as for closed-loop control applications, with a Tolomatic actuator. This is best applied in retrofitting older applications or when custom solutions are needed for unique applications.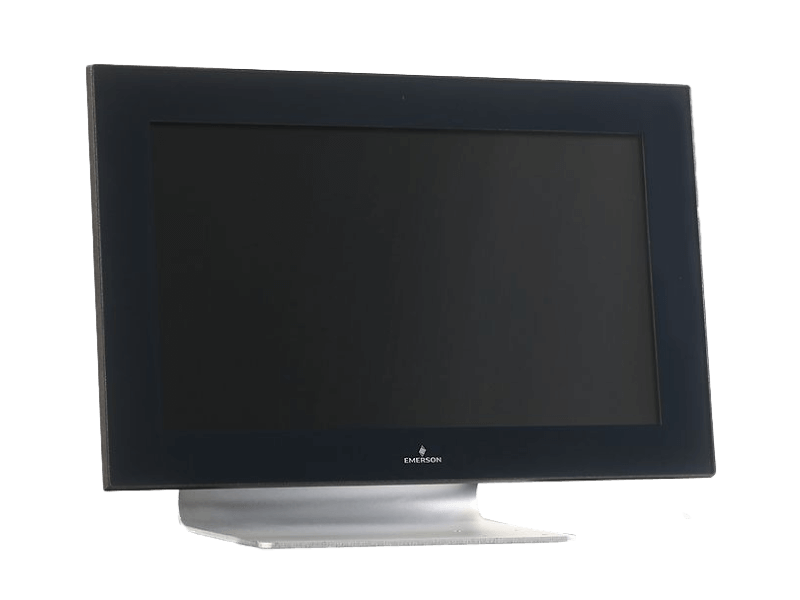 Emerson Panel PC
Combining the modularity and flexibility to customize your product to your needs, the RXi Panel PC portfolio also packs in performance thanks to a dual core 1.0 GHz processor or a quad core 1.2GHz Processor with 4GB or 8GB of available DDR3 RAM. With Windows 10 IOT Enterprise LTSB OS installed standard, the RXi – Panel PC is ready to meet your software needs. A combination of design, durability and power packed into an ultra-slim package make it perfect for a wide range of applications
Emerson QuickPanel+
The visualization and general purpose computer for your application
Plug and play connectivity
Designed for easy installation and configuration by automation engineers
Fully integrated view, control and data historian
Multi-touch for optimum responsiveness
Vivid images for more complete process visualization
Fully functional web browser with multimedia capability
Email and text alerts based on user-defined settings
Custom, web-enabled reports and graphs
Remote diagnostics and security
Compatibility with third-party components
Banner Engineering Lighting
Illuminate tight quarters around your machines and strategically place lights to inspect web quality. Banner Engineering has a wide variety of lighting options to choose from to fit into all areas of your application. See the entire lineup at Banner.
Let's Get Started
Now is the time to start a conversation with our experts. Reach out with the contact form below.