Stay connected to your machines with the help of Power/mation's Industrial Internet Solutions. Power/mation offers multiple solutions to achieve your remote access goals. From easing contractor access to your application, to contingency plans in the event of a global crisis, Power/mation will create a proactive plan for you.
Stay Connected to Your Machines
Do you rely on outside contractors for machine support and troubleshooting? Has COVID-19 interfered with contractors accessing your facilities? Power/mation has tools and experts at your disposal to meet these unprecedented challenges.
The COVID-19 crisis has proven the need to remain connected virtually. This principle also applies to the devices in your facility. Follow these three quick steps to get connected.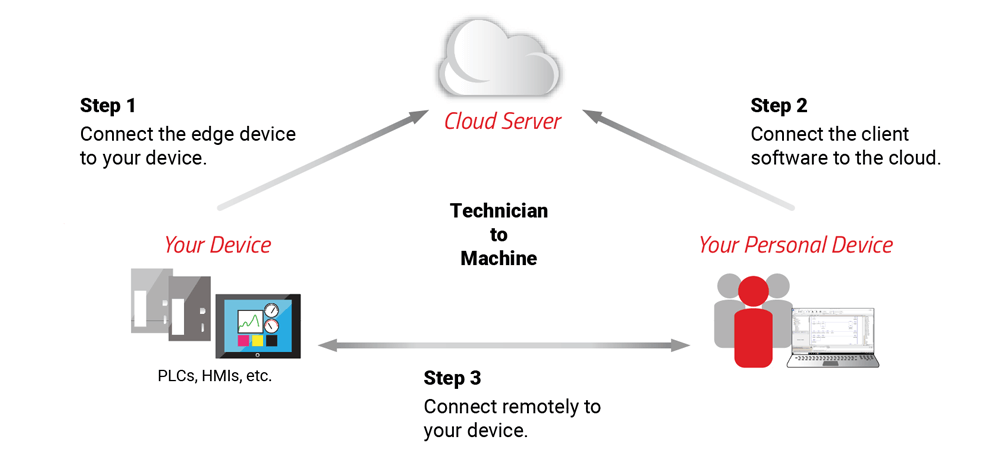 The Technician to Machine Model
Solution Options
Power/mation has a wide variety of custom remote connectivity solutions for your application. For most applications, the two solutions below are the best place to start. Both solutions follow the Technician to Machine model and provide details on recommended edge devices (PLCs, HMIs, etc.) and clients.

Both solutions are Verizon compatible.
Industrial Internet Solutions
Whether your company is an OEM or end user, Power/mation can implement a remote connectivity solution to enhance your application. Read more of our Industrial Internet Solutions documentation on our Resources page.
Learn more about Power/mation's Industrial Internet Solutions.
Let's Get Started
Now is the time to start a conversation with our experts. Reach out with the contact form below.